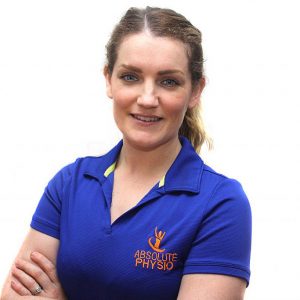 Gráinne Donnelly is an Advanced Clinical Specialist in Pelvic Health Physiotherapy. She qualified from the University of Ulster Jordanstown in 2008 with a BSc (hons) in Physiotherapy.
Since then she has gained a wealth of knowledge and skills working within the Health Service and in private practice.
Gráinne is the co-founder of ABSOLUTE.PHYSIO and the clinical lead of the pelvic health service. She is also the Advanced Physiotherapist and Team Lead for pelvic health physiotherapy across the Western Health and Social Care Trust in N. Ireland.
In 2018 she completed her Postgraduate Certification in Continence Practice for Physiotherapists with the University of Bradford and she is currently continuing this study to complete a Masters in Advancing Healthcare at the University of Ulster, Jordanstown.
Gráinne has extensive experience for pelvic health issues in men and women at all stages of life. Whether pre/postnatal, perimenopausal or struggling with constipation or prostate issues, she can guide you in your management. She strives to break down barriers to exercise such as incontinence or pelvic pain and is an expert in abdominal separation, also known as Diastasis Recti, a topic which she speaks and teaches globally about.
Gráinne also designed, developed and co-founded Spark Cancer Rehabilitation service which is now delivered in partnership with Action Cancer. This is a free service for the public to assist with survivorship after a cancer diagnosis. She has undertaken specialist post-graduate training in Cancer Rehabilitation and is here to help anyone in this situation.
Gráinne recently co-founded WHITE CIRCLE, a pelvic health educational platform via educational workshops and seminars delivered to the public. This aims to increase break taboo by increasing awareness and education about the common (but not normal) symptoms women can face in relation to pelvic health and well-being.