RITE Fitness – Fitness For All is an online health & wellbeing solution designed for busy people on the go, so they have access to every area of health and fitness, on any electronic device, at the click of a button regardless of their location.
With peoples' day to day routines becoming busier in modern society trying to juggle their work/life balance, aswell as family commitments, people are finding it more difficult to manage all aspects, and inevitably their health and wellbeing routine can suffer.
 Our online solution covers every aspect of the health & wellbeing spectrum on one user friendly platform that is suitable for people of all fitness levels and training experience.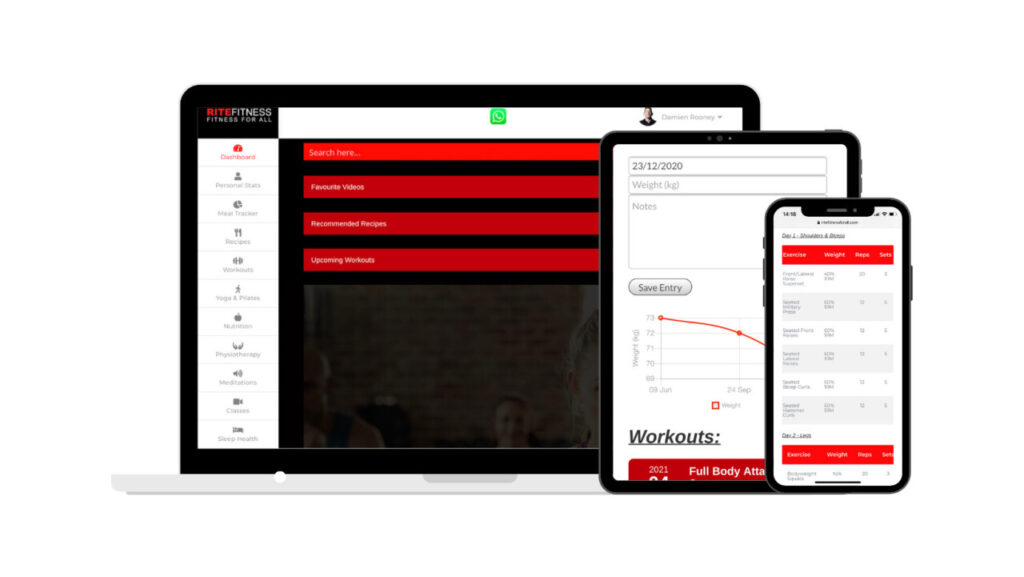 What features are available on the RITE Fitness – Fitness For All Online Platform? We provide specialist help in all of the areas listed below. For a full list of all services provided under these categories please check out what we offer
Our corporate plans are designed to empower your employees, and implement a solid wellbeing structure within your workplace.
In the new digital generation we are now in, many of the onsite wellbeing solutions have become dated. With more and more employees also working remotely, aswell as travelling more for work, onsite solutions also don't transfer well.
Our platform allows companies to offer their employees an online health and wellbeing solution, that covers every area. This can be accessed on any device, at any location, 24hrs a day. Employees can track their progress, schedule their week, log their nutrition, check in with our specialist team and much more.
 Improve employees' physical and mental health, increase motivation and staff morale, decrease absenteeism and ultimately lead to a healthier, happier and more productive workforce.
Outside of the level of services and information we provide from our team of specialists, check out some of the other add ons we provide for you and your staff to ensure you gain the most personalised service

24hr unlimited access to all areas of our system, fully responsive on all devices

Book individual or group consultations with any of our resident specialists

Book and set challenges for your team, with individual and group award schemes

Full customer support available to users across all specialist areas on the platform
Through the most up to date surveys conducted across a range of areas, it was found that companies that invested in their employees wellbeing reported the following company benefits:
Increased Morale & Productivity
Positive Wellbeing Change